Questions?
We've got answers.
Spark is no ordinary experience, so we're sure you have lots of questions. From hotels to tours, meals and flight options, and everything in between, we've got all the information you need to start your Spark experience.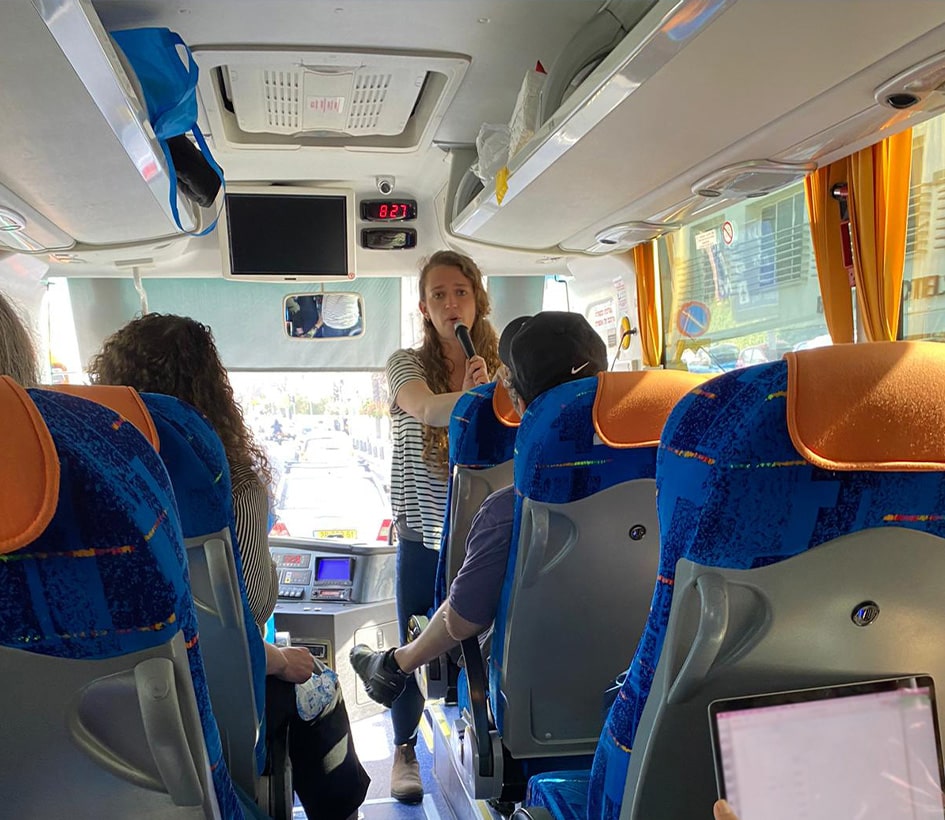 What is Spark?
Spark is a journey of leadership, learning, travel, connection, and community building in celebration of Israel's 75th Independence Day. Through diverse experiences, you'll feel a deep connection to community and to one another, sparking a passion for involvement, leadership, and learning within Jewish Boston and beyond.
What does the cost include?
Each experience includes deluxe accommodations in Jerusalem, Tel Aviv, and Haifa/Northern Israel, a daily buffet breakfast, most meals, government-licensed English-speaking tour guides, deluxe air-conditioned buses with Wi-Fi, all programs and activities and entrance fees, on-site field coordinator and hospitality desk, and tips and gratuities.



What programs will be offered locally?
In addition to meet-ups with your Spark small group, we are organizing exciting options to supplement your experience. These may include book clubs, speakers, Hebrew classes, and more. Check back for a listing of Boston-area events and opportunities.
When does Spark begin?
Programming and events will begin in the fall of 2022. Community Experience groups will be assigned in early 2023 and Family Experience groups will begin meeting in fall 2023.



How do I reserve a spot?
Spots will fill up quickly! We have space for approximately 500 adults in April 2023 and 80–100 families for December 2023. To secure your spot, a $250 refundable deposit is required with your completed application. That fee will be credited toward the total cost of the experience. Registration is first-come, first-served. For those interested in applying for subsidies, an application will follow receipt of your pre-registration form. To reserve your spot, click here or contact spark@cjp.org.
Who will I be traveling with?
For the community experience, every participant will select a group for pre- and post-trip experiences. These groups of around 15 people will be formed by age, location, and/or organization. Each small group will have professional staff and volunteer leadership assigned to make the experience meaningful. For example, if you choose to join a synagogue group, the rabbi will create programming for your group. The topics and leaders for each small group will be published before you make your selection. Each bus on the Israel experience will include two small groups. Most of the time spent in Israel will be with your group and your bus.
For the family experience, every family will be assigned a group for pre- and post- trip programming. These groups will be made based on ages of children, interests, and geographic locations. Participants will be able to request others to join their group. While in Israel, some time will be spent with your group, and some time will be spent mixing with other families in the experience. This will enable everyone to meet and connect with as many people as possible and create lasting bonds and family friendships.
Is my deposit refundable?

Community Experience: A $250 deposit per party is required with your completed application. Your deposit is fully refundable through Friday, October 14, 2022.

Family Experience: A $250 deposit per party is required with your completed application. Your deposit is fully refundable through Wednesday, May 31, 2023.
Is there a cancellation policy?

Community experience:
Your $250 deposit is refundable through October 14, 2022. The full balance of payment is due by December 31, 2022. Cancellations made by February 15, 2023, will receive a 50% refund. There will be no refunds after that date.

Family experience:
Your $250 deposit is refundable through May 31, 2023. The full balance payment is due August 31, 2023. Cancellations made by October 15, 2023, will receive a 50% refund. There will be no refunds after that date.

For those who apply for subsidies, you will have 30 days after decisions are communicated to cancel with no penalty.
Will you be able to accommodate special dietary needs?

Yes. You'll be able to indicate your dietary requests in the full registration form. Special dietary needs such as vegetarian, vegan, gluten-free, and other allergies will be accommodated. All meals included in the trips will be kosher, in compliance with local municipal rabbinates.
What is not included in the cost of the trip?

Air travel to and from Israel, some meals, souvenirs, room service, gifts, or any other personal items.
Do I need to purchase travel insurance?

Travel insurance is strongly recommended. To purchase travel insurance, please contact your personal travel agent.
Will I have Wi-Fi access?

Yes, the tour bus and hotels will be equipped with Wi-Fi.
Is the cost of a trip tax-deductible?

No. Per IRS regulations, the cost of goods and services cannot be claimed as charitable contribution. Therefore, the cost of Spark is not tax-deductible.
What is your COVID policy?

We are closely monitoring the continuously changing situation with COVID-19. We will adjust our plans based on public health and government guidance from the U.S. and Israel at the time of travel. To ensure the comfort of all travelers and to comply with Israeli government guidelines, participants on this trip must be fully vaccinated against COVID-19.
Still need more information?
If you have more questions you don't see listed here, feel free to email spark@cjp.org.